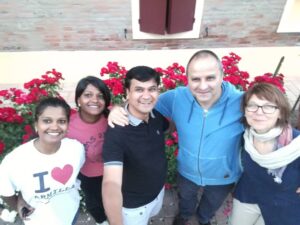 Mulini Nuovi, 16th of March 2022
It all began on March 16, 2017 in the evening … with the arrival of the first guest at our B & B … the famous guest NUMBER 1!
Paolo and Titty: "Good evening and welcome Nicolas … welcome to the B&B Le Noci di Feo … you are the first guest!"
Nicolas: "Yes, I know, I anticipated my arrival to this evening and I arrived first compared to my colleagues who will arrive tomorrow!"
Paolo and Titty: "Of course … but we wanted to say that you are the first in the sense that you are the FIRST GUEST of the B&B ever … because our business begins with you this evening!"
Nicolas: "Ahhhh"
And after the guest no. 1 many other guests arrived, from all over the world and for various reasons!
Our hospitality project was actually born much earlier … it was born from a dream in the drawer, from the desire to run his own business and from the availability of our large house starting from the beginning of 2015 when Feo, Paolo's father, he left.
We already had clear ideas but in these 5 years we have learned many things about hospitality! We try to offer an experience made of a good bed and a good typical Modena breakfast, but also made of sharing our history and our excellent Modena specialties!
In these years we have really achieved some good results but what most of all gratifies us are the warm relationships and new friendships that have been born around the world!
And after these first 5 years we still feel we can infinitely thank Feo (who would have been 100 years old on March 22 this year!) And Ivanna, Paolo's mother: only thanks to their work was all this possible!
And another huge thank you goes to our family, who opened the door in the true sense of the word; to our closest friends who have supported and supported us in this project; to all the guests who greet us with a smile and who show us in a thousand ways that they were happy to stay with us.
From now until March 22nd we will publish some memories of these 5 wonderful years on our site day by day, so we invite you to visit our web pages!
Happy anniversary B&B Le Noci di Feo !!!
Paolo and Titty