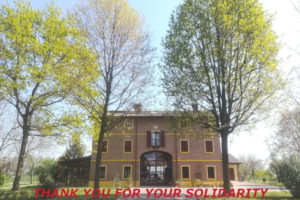 Modena, 8th of April 2020
WE ARE NOT ALONE THANKS TO YOUR SOLIDARITY
In these days of emergency we have received several messages of solidarity and sharing from all parts of the world. In many cases all the concern was felt by those from abroad who were reading terrible news about what was happening in Italy. We thank you for your closeness that makes us feel less alone and isolated in the world!
Here are some of them:
YOGESH TAWARI – INDIA 🇮🇳
[14:09, 24/2/2020] Jogesh Tawari: I hope all good in Modena…. Take care
[14:29, 24/2/2020] RnB Le Noci Di Feo: Hi Jogesh… we have some difficulties… unfortunately the virus is affecting some area in the North part of Italy… in Modena the situation is still quiet… we hope to solve asap the critical factor… thank you Paolo
[14:53, 24/2/2020] Jogesh Tawari: Thank God… May god bless you all and keep you healthy and safe from this disaster 👍🏻 take care and be strong… Take more Vitamin C intake to boost immune system
PAOLA E DEBORA – GERMANIA 🇩🇪
[08:21, 27/3/2020] Paola Bellenzi: Buon giorno.
Spero che tu e la tua famiglia stiate tutti bene.
Sperando che passi tutto al più presto e nel migliore dei modi e di rivederci presto,  vi mandiamo un abbraccio
Paola e Debora dalla Germania
EVA E ALINA – AUSTRIA 🇦🇹
ciao paolo, we are thinking of you and we hope that you and your family and also Sandra from the Acetaia San Matteo are well. we send you our best wishes and hope that these bad times pass quickly. kind regards and the best wishes for the next time. eva and alina
ALAIN E ANNE BERDER – BRETAGNA 🇫🇷
Siamo fieri di avere soggiornato il mese scorso a casa di persone molto generose in questi giorni bruttissimi. Allora siete prudenti!!!
Siamo confiante anche inFrancia.
Andrà tutto bene!!!
Alain e Anne Berder
PETRA BALFORT – BELGIO 🇧🇪
Goodmorning Paolo
Do you remember us; your guests grom Belgium last year?
We look with a lot concern the news! Terrible for Emilia Romagna and the thourisme there.
Everything ok there
Greetings from Belgium, where Corona also entered this week…
ALLISON E DAVID – USA  🇺🇸
Hi Paolo! Allison and I were thinking of our trip to Modena last year and the wonderful time and hospitality we experienced at Le Noci de Feo. Wanted to check on you and your family. Hope everyone is doing ok!
MARTINA MUELLER – AUSTRIA 🇦🇹
Bello sapere che stai bene! Grazie a Dio che siamo ancora in salute🙏
Preghiamo per l'Italia e non vediamo l'ora della nostra prossima visita!
Tanti saluti e a presto,
Martina
KLAUS – AUSTRIA 🇦🇹
Hallo Paolo, hope you have a nice sunday and not to much troubles with the Corona.
Yesterday Stefan and Daniela and her family gave us the OK to book the room for them too (4beds room).
so we are looking forward to come together. I am shure the sanitary situation will be good again in may. Best greetings from all of us!!! Klaus
YVES & JULIE – MADEIRA 🇵🇹
Good morning Paolo, hope you guys are well and safe. Our warm thoughts are with you and your family in these challenging times. Kind regards, Yves & Julie
ALFREDO E MARTA – SPAIN 🇪🇸
Hello Paolo!! How are you coping with covid19?  Good luck and be safe…hard times everywhere. Regards and stay well!. Marta&Alfredo.
ROSEMARIE E KAI  – GERMANIA 🇩🇪
Hello Paolo. We hope you are well. It was nice spending at your house and we hope we can repeat it when Corona is over. We wish health to you and your family. Best wishes Rosemarie und Kai from Germany
ALEKSANDER – RUSSIA 🇷🇺
Hello Paolo!
How are you there?
I hope your family is healthy.
We read a lot of scary stories about situation in Italy.
Please keep yourself in safety.
God bless you and all of us.
ANDY E JUDITH – UK 🇬🇧
Paolo
Spero che tu e la tua famiglia siate al sicuro.  Stai attento.
Andy & Judith
GABY E ROLAND – SVIZZERA 🇨🇭
caro paulo. Mi scusi il mio italiano. stiamo pensando a te. 🙏buona salute. Gaby et Roland di Stans🍀🍀🍀
ABI JAYAWARDENA – AUSTRALIA 🇦🇺
Dear Mr Paolo, this is Abi and Mevan. We stayed at your wonderful home in 2018 with our two sons. I wanted to check that you and your family are doing okay admist the COVID-19 pandemic? Your family is in our prayers. Much love and thoughts and prayers.
Ci potete contattare ai nostri soliti numeri/mail.
LeNocidiFeo.com
R&B Le Noci di Feo
Strada Albareto 422
41122 Modena
mob +39 349 2100540