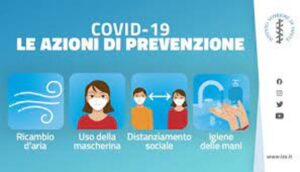 Mulini Nuovi, 01 January 2022
Dear guests, dear friends,
with the start of the new year and in the light of the current health emergency situation we wish to share the measures we have adopted in this period and which we ask you to observe during your stay:
1) REINFORCED GREEEN PASS: To access the facility you must have the strengthened Green pass: we only mean the COVID-19 green certification for vaccination or recovery. The reinforced green pass therefore does not include the carrying out of a rapid or molecular antigen test;
2) MANDATORY MASK: It is mandatory to wear the mask in the common areas of the structure (internal and external);
3) DISTANCE: Always keep a minimum distance of two meters in common areas within the structure;
4) SANITIZATION: Inside the structure there are products for hand sanitation for customers and staff that we ask you to use upon arrival and during your stay; all rooms and common areas are sanitized every day;
5) FEVER: People with fever (over 37.5 °) or who have been in contact with Covid-19 positive people in the 14 days prior to arrival will not be accepted;
6) FLU SYMPTOMS: It will not be possible to stay in the structure in case of symptoms of flu or onset of fever which must be declared promptly;
7) AIRING THE ROOM: Please air the room when you are leaving the facility;
8) BREAKFAST: breakfast is served in such a way as to avoid contact of unprotected products / foods by more people. Upon arrival you will be explained the procedure.
We obviously remain at your disposal for any clarification you wish to receive.
Have a nice stay
Paolo
mob 349/2100540